Irish National Opera


Bluebeard's Castle

by Béla Bartók & Béla Balázs
Directed by Enda Walsh
Conducted by André de Ridder

VIDEO DESIGN
CINEMATOGRAPHY
Bluebeard and his new wife Judith are drawn into the darkness. Once they enter his castle and the gates are closed, there is no turning back. They must both continue further, but the landscape he's made is made of blood...
INO website

★★★★ ...visually stunning and its singing and music are nothing less than sublime... Jack Phelan's video design, handling the heavy visual lifting when it comes to the opening of doors, grows steadily in confidence from a modest beginning to an impressive conclusion. The Arts Review

Best Video Design " ...but most impressive was Jack Phelan's towering images for Bluebeard's Castle." - The best theatre of 2018, Musings in Intermissions blog
website
Video Design

My work on Bluebeard's Castle involved
working closely with director and design team to develop the video design direction
lots of early sketches, tests and storyboards
advanced some technicques I started on Asking For It - CGI volumetrics with projected live-action.
developed procedural elements for many of the pieces - crystal growth, abstract landscapes, bruise growth
developed, shot and post-produced some live-action sequences
Processes, tools, techniques:
video shoots - green-screen, motion control, photogrammetry, microscopy, timelapse
design: Procreate, Blender, Processing, After Effects, Resolve
I purchased a microscope with camera port for this project, shot a tonne of material but it never made it into the show! However, it informed most of the procedural graphics I made with Blender, so was well worth it.
Pre-production

An early direction was to use microscopy to illustrate the inside of Bluebeard's (very weird) head. Chemical reaction, crystalisation of substances like caffeine and Paracetamol. I've always wanted a decent microscope with a camera port...
Some results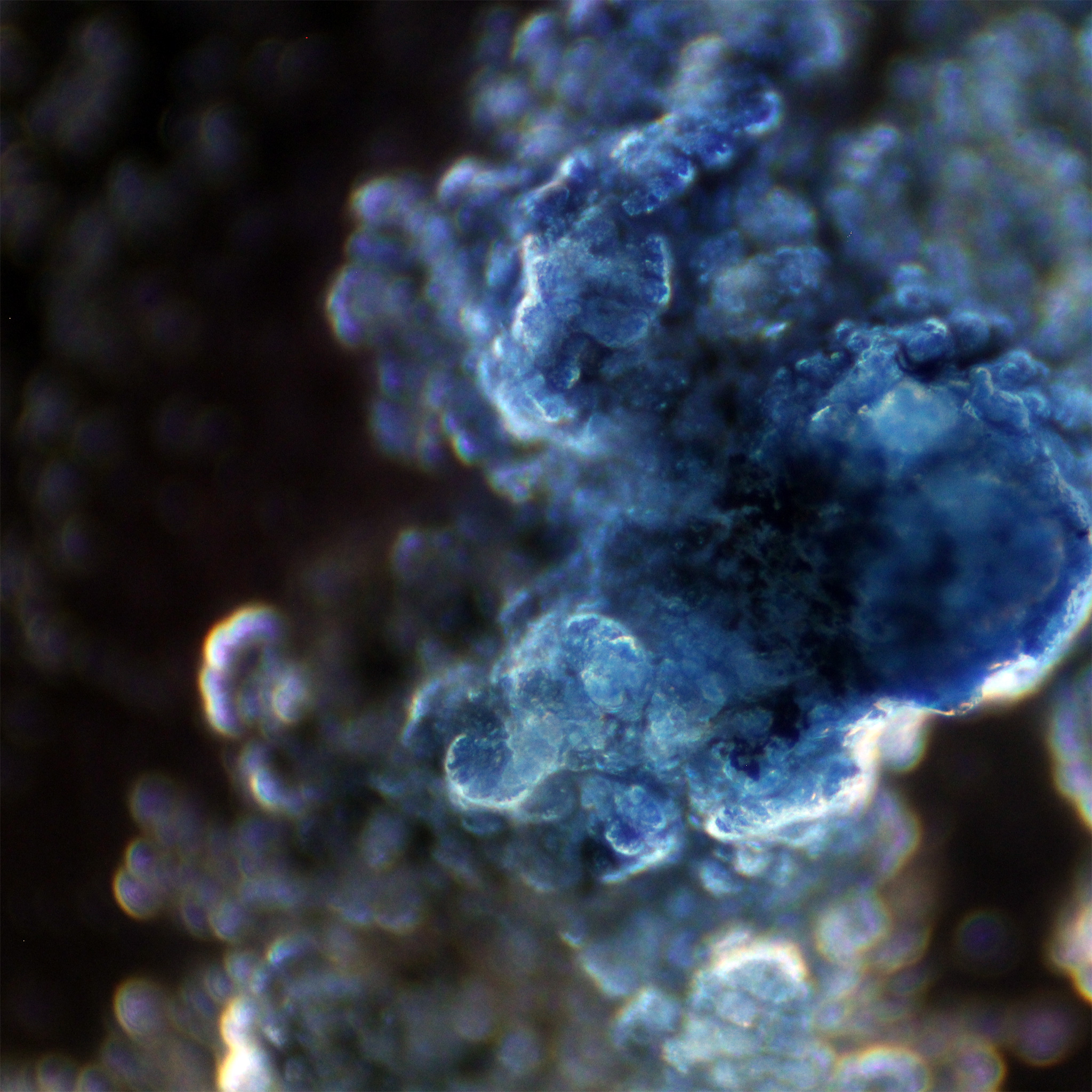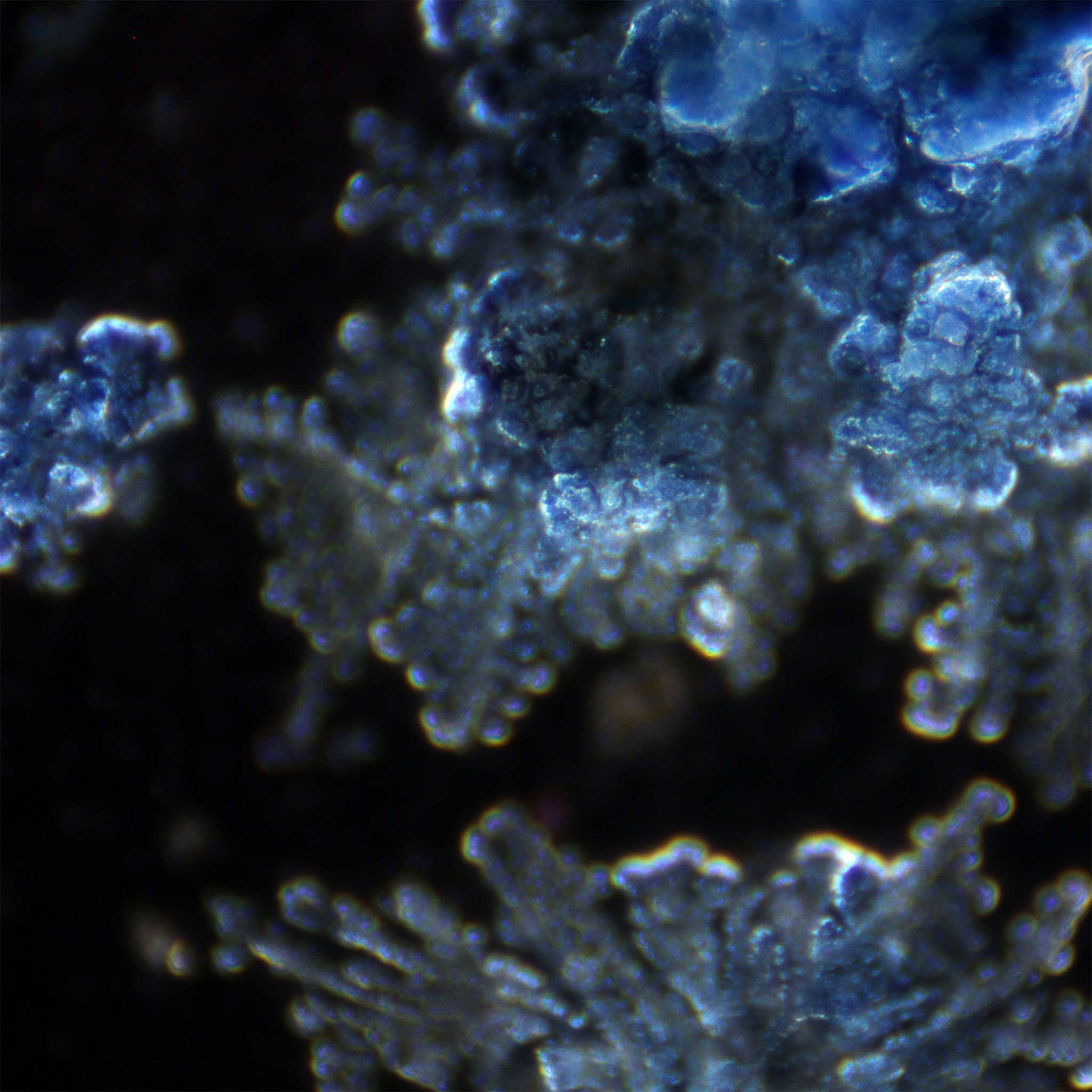 I got some really nice shots from the microscope (DSLR on the camera port) but ultimately it wasn't quite right for what we were talking about. Enda had a more painterly look and feel in mind. Either way, material shot like this can be tricky for something like theatre, where great flexibility is usually a must in tech-rehearsal, so I started playing around in Blender.
If you're into digital image making and haven't tried
Blender
, then please do! It's free and open-source and I use it for just about everything. It has a steep initial learning curve but you'll be making purdy pictures pretty quick. It can essentially do everything Cinema 4D can do and more.
I ended up making almost everything for Bluebeard's Castle in Blender.
A little teaser I made using procedural growth
Video Shoots

We did two small video shoots for the opera - sequences with the performers in custume in Aldborough House - these never made it into the show, and a green-screen shoot with Elijah O'Sullivan. I set this up to create a sinking into a deep lake of tears. For the craic, I motion tracked in new animated CGI hair to help with the underwater vibe.
Production
JACK PHELAN - VIDEO ARTIST, DESIGNER, DIRECTOR
WICKLOW, IRELAND.